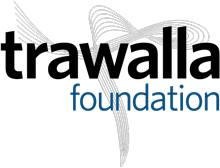 Established in 2004 as a vehicle for the philanthropic activities of the Schwartz family.
The Trawalla Foundation invests in exceptional individuals and organisations focused on strengthening gender equality, creativity, sustainability and social justice within our society.
We are active funding partners, adopting a range of levers including grants, investments, skills, networks and advocacy, to catalyse and strengthen the work undertaken.
Learn more about Trawalla Foundation, visit their website: